Career Link Oahu is a service that links businesses to job seekers on Oahu. Please see below for a list of open positions.
---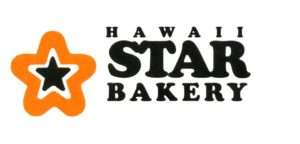 Get a job at the local company that makes those classic English muffins. Hawaii Star Bakery is hiring! Hawaii Star Bakery locally owned and operated tight-knit family bakery since 1936. No experience is necessary. Hawaii Star Bakery will train. Paid medical, dental, drug and vision. To apply please call  808-841-3602, come to their bakery (94-732 Haakoa Place) or for more info find them on Instagram @HawaiiStarBakery.
Production/Baker's Helper Responsibilities:
Making and shaping bread products by hand and with machinery
Cutting and scaling dough
Operation of baking equipment
Dropping English Muffins by hand
Operation of English muffin griddles
Prepare baking trays (oiling, spraying, parchment paper, cornmeal, etc.)
General cleaning of work areas
Washing mixing bowls, trays, pans
Packing Responsibilities:
Packing bread products by hand with help of machinery
Labeling packaged bread products
General cleaning of work areas
---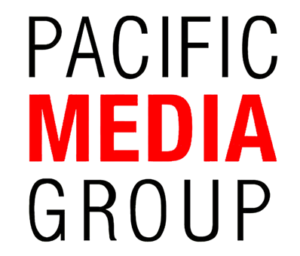 Promotions Assistants
Pacific Media Group is looking for part-time Promotions Assistants for its Honolulu radio cluster which includes 1027 Da Bomb, 947 KUMU, HI93 and 1059 The Wave.  The Promotions Assistant will effectively and efficiently support events and online presence, representing the radio stations' brand, local appeal, and initiatives while promoting partner products and offers. If you love music and are interested in the entertainment industry, this is a great first step.
Responsibilities:
Maintain the stations' brands and imaging with effective street campaigns.
Prepare for, set up, and attend station events.
Support on-air personalities, greet listeners, entertain guests, distribute marketing collateral.
Collect and distribute social media and website content, provide photos with written recaps.
Maintain station equipment and materials.Pacific Media Group, Inc is an Equal Opportunity Employer.
Requirements:
High school diploma required
Valid Driver's License with positive driving history/experience
Customer service experience, outgoing and comfortable meeting new people
Ability to manage and operate audio equipment, pop-up tent, table, flags and banners
Able to lift 25+ lbs
Strong knowledge and understanding of social media platforms
Comfortable operating within the stations' websites
Versatile and willing to assist other departments
---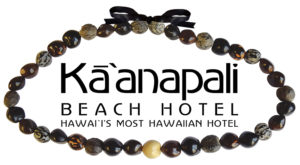 Ka'anapali Beach Hotel and their restaurant HuiHui are hiring for multiple positions.
Earn up to $500 when hired and after completion of your introductory period. A variety of available positions in Food & Beverage, Bell, Valet, Housekeeping, Front Office Agent, and lots more. Engineering, Grounds, Sales & Marketing, Culinary, and more. Join the KBH 'ohana and earn up to $500.00 while working in a gorgeous location with a fun team.
Apply today at www.kbhmaui.com/careers.
---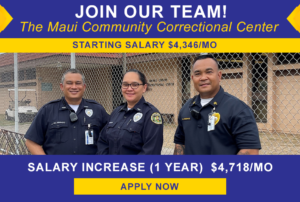 You could be making $4346 per month in an exciting new career.
Become an adult corrections officer with the Hawaii Department of Public Safety. Great benefits, too! If you're ambitious, fair, and professional, apply online at government jobs.com/careers/Hawaii. Search adult corrections. Must be 21 and over.
---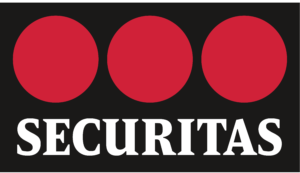 Securitas needs to fill over 100 positions all over Oahu,  with shifts available 24/7. All training will be provided, and they have great bonuses if you already have a Hawaii Guard Card. Apply online at securitasjobs.com or call or text 808-225-4365
---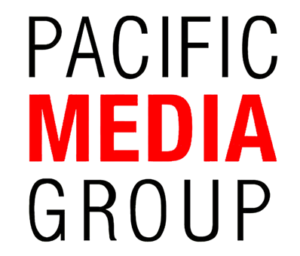 Work in the fun, fast-paced world of broadcast media with us at Pacific Media Group!  In Oahu, we are 1027 Da Bomb, 947 KUMU, 1059 The Wave, and the NEW HI93.  Our locally-owned and operated statewide group includes the #1 18 to 34 and 18 to 49 stations, two stations in the Top 5 in Honolulu, and the station with the most listeners in all of Hawaii.
Pacific Media Group is an equal opportunity employer.
Pacific Media Group offers Full-Time employees medical and dental insurance, paid vacation leave, and 401k benefits.
Responsibilities:
Develop new and maintain current client relationships.
The Media Consultant should consistently meet individual sales goals and objectives by cultivating client relationships, acting as a resource, using creative marketing and problem-solving skills, and diligently looking for opportunities to increase revenue share by helping clients exceed their marketing, promotional, and awareness goals.
Identify objectives, strategies and action plans to improve short- and long-term sales with each client.
Manage all required paperwork (sales orders, production orders, promotion request forms, remote sheets) in a timely and accurate manner.
Be available on an as-needed basis for any and all station promotions that require additional personnel as identified by station management
Direct creative campaigns and create oral and written presentations
Employee shall also perform other duties as may be needed, from time to time during the term of the Agreement, be assigned (in writing or otherwise) to Employee by Employer.
Skills/Abilities:
Ability to develop trust and relationships easily.
Demonstrated success with creating custom, integrated campaigns that include digital, event, and community outreach components.
Strong problem-solving skills.
Strong oral and written communication skills required.
Efficient in Microsoft Office Suite Programs (ie. Word, Powerpoint)
Job Type: Full-time
Pay: $30,000.00 – $126,803.00 per year
Education: Bachelor's (Preferred)
Experience: Sales Experience: 1 year